Posts Tagged 'lovable labels'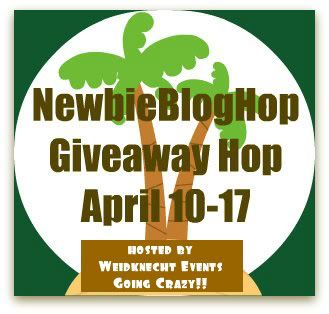 The Newbie Bloggers have arrived and we're bringing you a giveaway hop!! We've gathered up over 100 blogs (Newbies and those AWESOME bloggers who LOVE Newbies) and we all have a giveaway of at least $15 for you!!
This Giveaway Hop is hosted by GoingCrazy!!WannaGo??!! and Planet Weidknecht and is open to you from April 10 to April 17. Now, let's get to hopping and winning!!
When you're a Newbie Blogger, one of the most important things you can do is connect with other great bloggers who want to help and are willing to share their tips and tricks. The Newbie Blog Hop started so that we could connect with other Newbies and learn together!!
The Newbie Blog Hop, hosted by GoingCrazy!!WannaGo??!! and Life's Cheap Thrills, opens every Tuesday at 9pm CST and closes at midnight on Friday. We have a Facebook Group where we share with each other as we learn together.
If you are a Newbie Blogger – or you "feel" new – come join us!!
Lovable Labels has generously supplied us with a pack of "Camp Pack" for one lucky winner! Thanks, Lovable Labels!
Read the rest of this entry »
Lovable Labels Review
We are a blended family and articles of clothing are always getting mixed up. Kid's are constantly arguing over something claiming it is there. We have finally found a solution that actually works and is a durable means to keeping things straight.
I received a pack of Lovable Labels Camp Pack to review. It came with labels for everything I could possibly imagine. Now we could easy say who owned what without argument.  We have had the frantic morning rushes where we are trying to argue out whose hoodie is whose and what water bottle belongs in which backpack. Even though we try to color coordinate everything, it just wasn't helping.
I have never thought of just labeling everything. With this pack I was able to label the items without any problems and now there is lease arguing as to who it belongs to. I absolutely love these labels, but that's not even in the best of it. Inside the Loveable Labels Camp Pack is Press n" Stick Clothing Dots. I used these on the hoodies that have been washed repeated times since placing them on and they have yet to look as if they will even remotely come off. Not to mention not one kid has complained about the sticker being in their clothing. I AM IN LOVE!
There is absolutely no ironing involved, I have a love hate relationship with my iron so these fit me just perfectly. They are safe for the washer, dryer, dishwasher, and many tug o' war fights!!
The quality is written all over these well made labels. I have never been more impressed with a label then I am with Lovable Labels Camp Pack.
There are so many styles to choose for and the Camp Pack comes with over 150 labels and is only $44.95.
The Lovable Labels Camp Pack Includes:
15 Sticker Labels

40 Slimline Labels

12 Shoe Labels

72 Press n' Stick Clothing Labels

12 Square Labels

2 Mini-Metal Tags, including chains
Please note the blurriness in the page is to slightly block out my daughter's name in the stickers. But rest assure these labels are very neat and crisp in appearance.
Please check back tomorrow for our post as one lucky winner will get to receive a Lovable Labels Camp Pack. In the meantime check out Lovable Labels website, facebook and twitter.
Disclosure:  The product(s) in this review was provided to me free of cost for the purpose of conducting this review. All opinions expressed in this review are my own and are not influenced by monetary compensation.